We love to travel, obviously. However, during these challenging times we are more homebound than we would normally be during this time of year. With hopes of being able to travel safely and responsibly again soon, we are already dreaming of the most beautiful luxury resorts around the world. Join us on a dreamy tour of our favourite luxury resorts with a focus on nature & sustainability.
Post Ranch Inn Big Sur (CA, United States of America)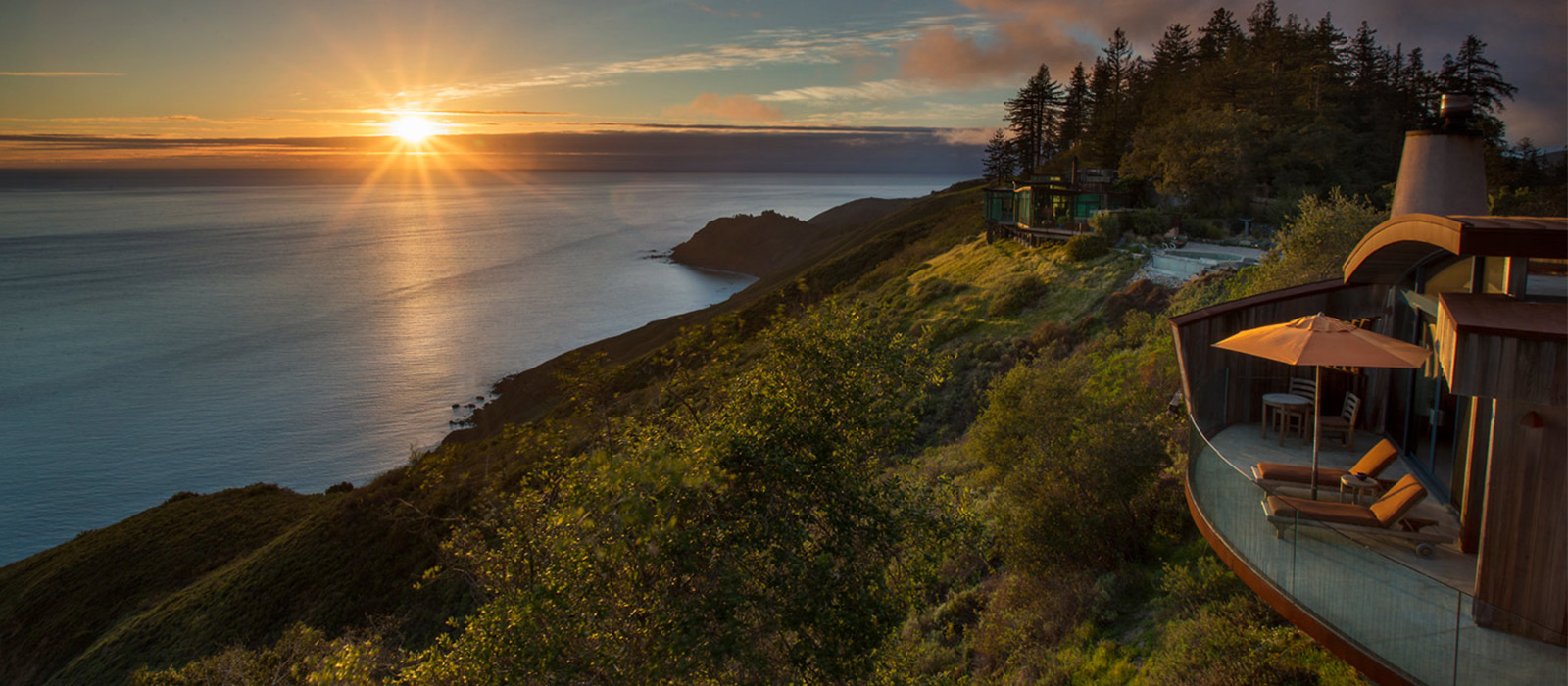 Source: Post Ranch Inn Big Sur
This gorgeous resort at the Californian coast is absolutely breathtaking. The architecture of the Post Ranch is completely natural and embraces the coasts extraordinary beauty. Guests will describe this place as a sanctuary of luxury, romance and relaxation. What we love about this resort is the environmental responsibility that is evident from the moment you arrive. The accommodations are built from sustainable materials and complement their natural surroundings. Another exceptional feature of this resort is the panoramic view of the Pacific Ocean and the Californian mountains. You can spend your time here enjoying a spa treatment, a yoga class or a relaxing afternoon at the pools. A true dream of a luxury resort, if you ask us.
Four Seasons Resort The Nam Hai (Hoi An, Vietnam)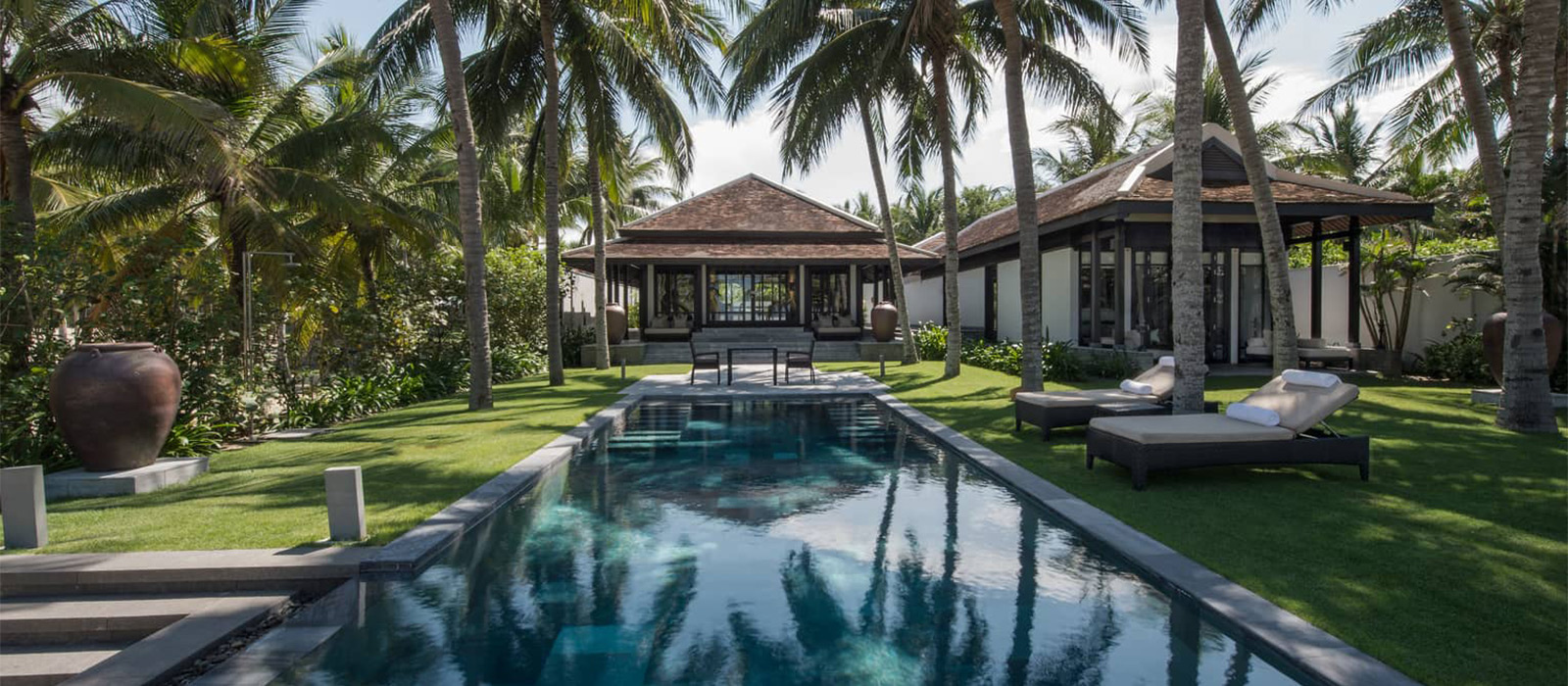 Source: Four Seasons
A serene seaside resort at the Vietnamese coast. For a peaceful and relaxing stay, this is one resort we absolutely love. Located at the idyllic city of Hoi An, close to three extraordinary UNESCO World Heritage sites, you'll have plenty of sightseeing options. If you prefer a more quiet and relaxing holiday, this beautiful resort offers a fantastic spa to help you heal your body and mind. To complete an amazing holiday, we recommend you enjoy a luxurious culinary experience in the resort's restaurant or in-villa dining.
Six Senses Resort Fiji (Malolo Island, Fiji)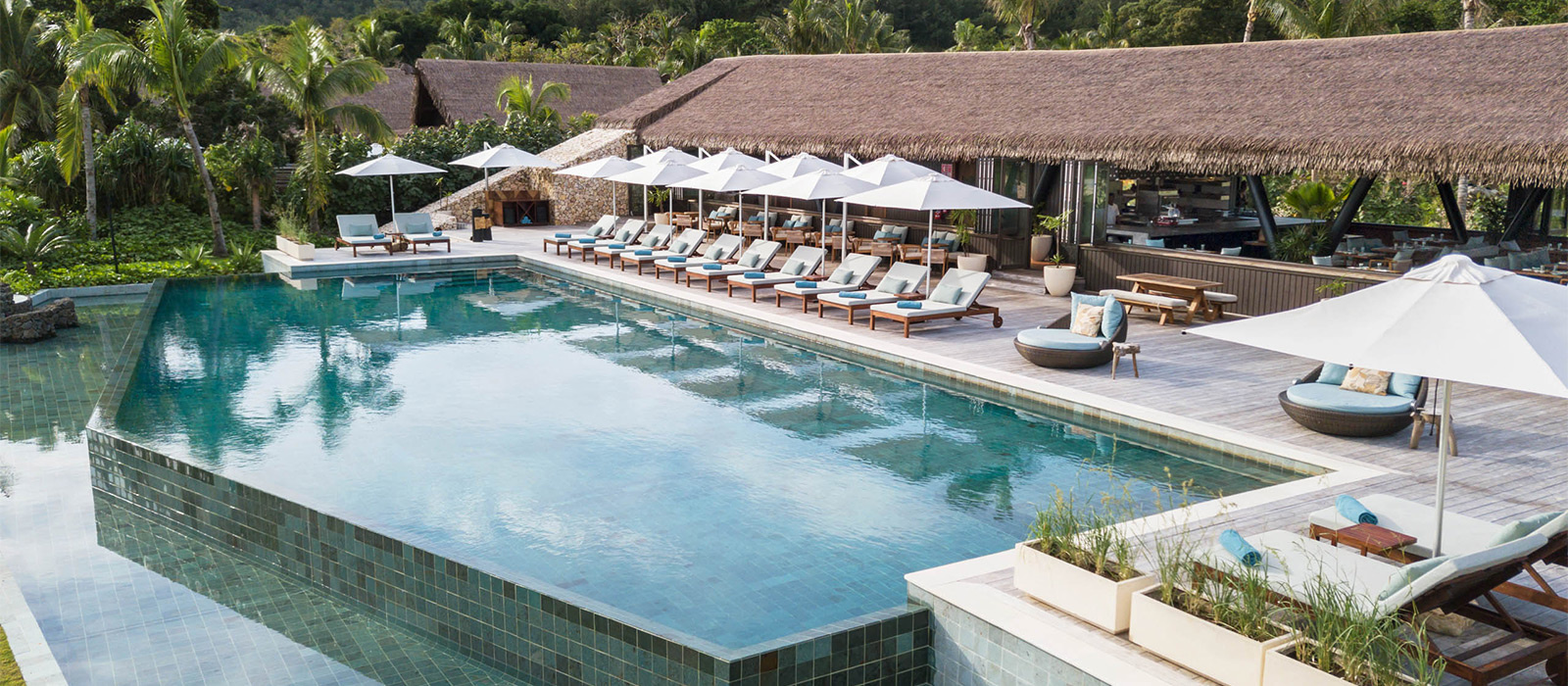 Source: Six Senses
On the Malolo Island of Fiji you can find this tropical paradise called Six Senses. The resort has 24 luxury villas and suites with private pools, bayside views and all are 100% solar powered. This sustainable feature isn't the only one, as the resort is highly self sufficient. On the property the resort grows its own produce, over 100 hens and roosters relaxingly roam around and produce eggs for the resort's restaurants and the nearby protected beehive area produces incredible honey and honeycomb. Another thing that makes this resort truly unique is the iguana conservation. These critically endangered crested iguanas are protected inside the resort's forested area, so you might catch a glimpse of these incredible creatures during your stay. We are a big fan of this resort and all of their other locations, because of their green heart and sustainable efforts.
Kichic Boutique Hotel (Mancora, Peru)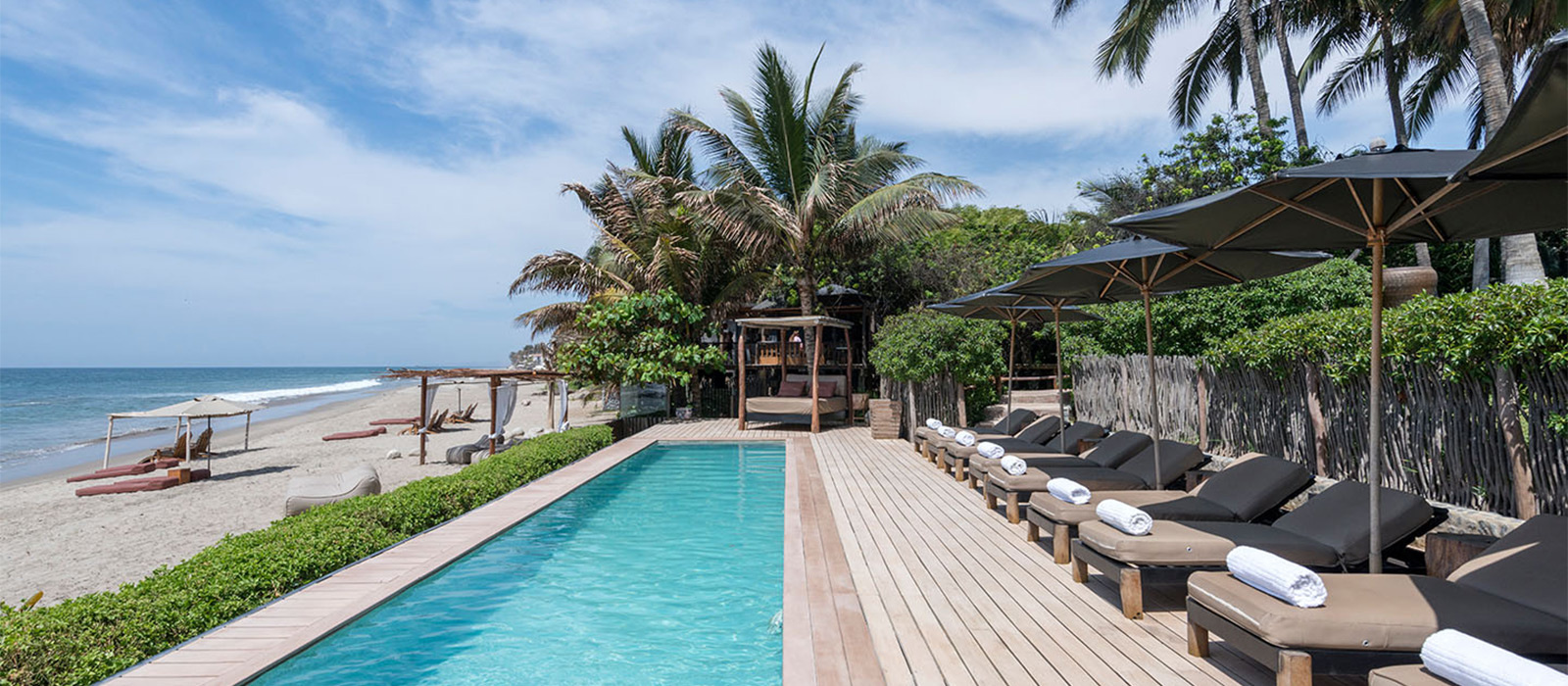 Source: Kichic Boutique Hotel
In the midst of the beautiful nature of the Peruvian north shore is the Kichic Boutique Hotel situated. The great thing about this location is that it is close to the Equatorial line, so it is always summer time here! The small scale resort offers an oasis of relaxation, peace and inner self connection. You can stay in one of the nine luxurious houses that include a private terrace and access to the Kichic garden and the nearby beach. We are obsessed with the unique houses that are made of stone, wood and mud, inspired by ancient local building techniques. The resort's restaurant and bar supply their kitchens with food from their own organic garden and local farmers. We are big fans of the healthy vegetarian kitchen and the fish bar. A delightful resort experience, all with a Peruvian touch.
The Brando (Tahiti, French Polynesia)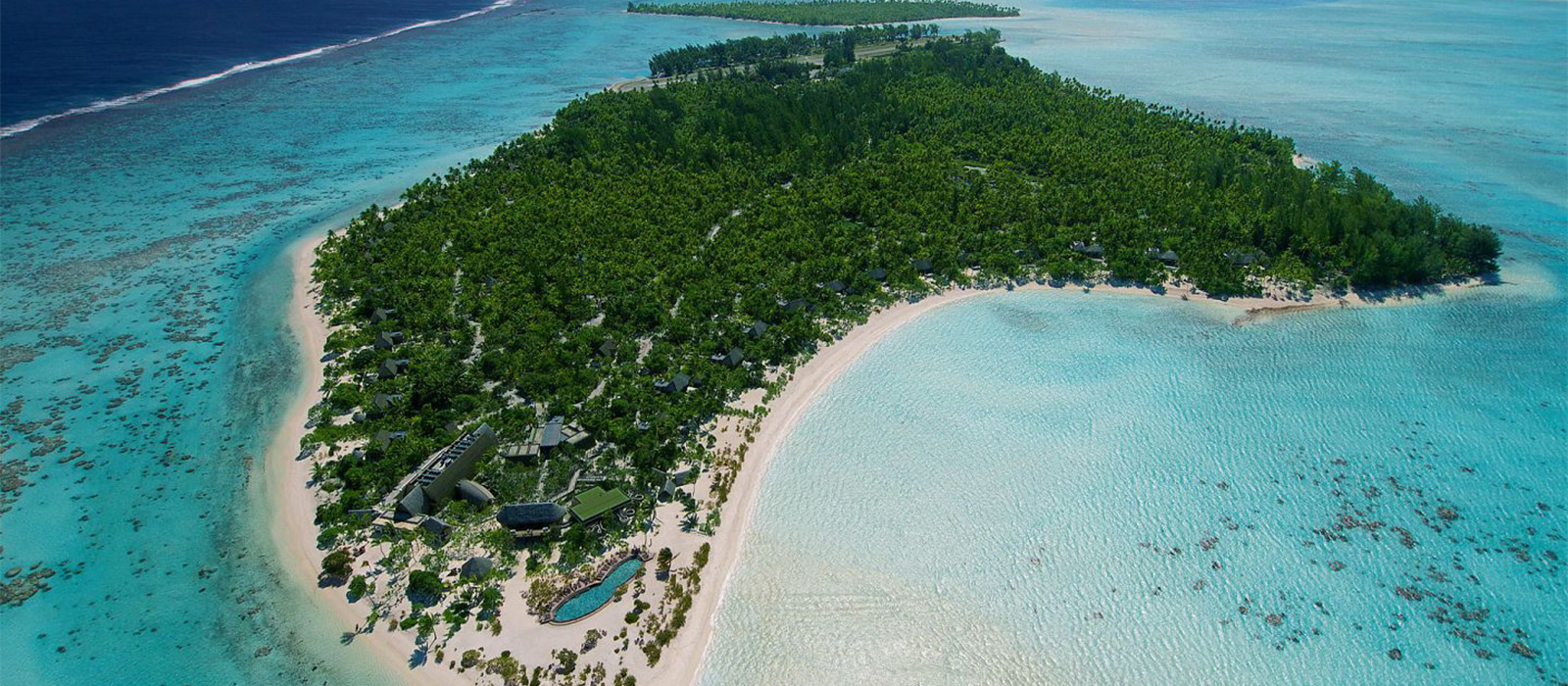 Source: The Brando
The stunning private island of Tetiaroa is home to The Brando, a one-of-a-kind luxury resort surrounded by the most beautiful nature. The resort features 35 villas with access to the white-sand beaches where you can often spot sea turtles, manta rays and exotic birds. To us this resort is special because of the amazing activities you can do here. You can either be active by going cycling or snorkelling, learn about the Polynesian culture at the explorer center or just relax at Mermaid Bay or one of the resort's pools. The resort is only accessible by private plane, making your holiday here extra exclusive and carefree. Another one for your travel wish list!
We can't wait to plan a trip to one of these amazing destinations! What is your favourite luxury resort that we should definitely visit? Or do you already have a trip planned to a beautiful resort? Let us know! Our luxury resort wear collection of light-weight organic dyed silk dresses and kaftans are perfect for a relaxing, sunny getaway. Keep it comfortable, yet always elegant.